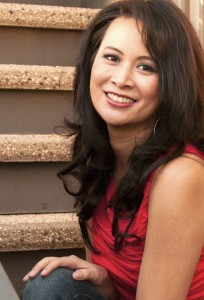 Larissa Lam is an award-winning singer-songwriter, filmmaker, worship leader and TV/radio host. She has ministered across the U.S. and Asia at over 400 churches and has performed at outreach events with prominent speakers such as Nick Vujicic, Francis Chan, Andre Kole and Erwin McManus. She is also on staff with Artists in Christian Testimony International, an arts missions sending organization.
Larissa defies stereotypes by surprising people with her big, powerful voice. She has released five solo albums of original songs including her most recent one entitled, Love & Discovery. The album explores themes of unconditional love and includes songs inspired by Larissa's personal battles with depression and cultural identity. With every performance, she brings incredible energy and passion not normally associated with nice Asian girls like her.
As Larissa tells it, "A pastor once said 'You're the Asian with the most attitude I've ever met' and he meant it as a compliment."
Larissa is also a missionary and tentmaker in "Hollywood." She is the former Chief Financial Officer of Christian record label, NSOUL Records and has also worked for numerous music companies and studios such as Columbia Records and Polygram. She is a professional songwriter and music producer. Music Larissa has composed has appeared in TV, film & video games such as the Oprah Winfrey Show, Days of Our Lives, E! Network, TLC and Dance Dance Revolution.
Larissa began her singing career as a member of "Nitro Praise" leading cutting edge praise and worship with dance music. For nine years, she was one of the co-hosts of weekly youth talk show, "Top 3," on JUCE TV (formerly JCTV) alongside Rich Wilkerson, Jr., Reba Toney, Brandon Crouch and Preston Pollard. On the show, she interviewed prominent Christians such as Josh McDowell, Mr. T, TobyMac and Third Day.  She is currently a co-host on a new advice call-in show for young adults, UTalk Radio, with international speaker/author, Steve Russo.
Click here for more videos of Larissa Lam.
Over the years, Larissa has been involved with various arts ministries. She was the former drama director at Chinese Baptist Church of Orange County. She served on the leadership team and led worship at "Media Fellowship International", a Bible study for Christians in arts and media held at CBS Studios in Hollywood, California. Larissa appears as one of the main storytellers in the evangelistic film, "The Hope," produced by Mars Hill Productions. She most recently directed and composed music for the award-winning documentary, Finding Cleveland, an amazing testimony about her husband, Baldwin Chiu's family tracing their roots to Mississippi and uncovering the untold history of the early Chinese immigrants in the segregated south.
Larissa was born and raised in Diamond Bar, CA but her parents were born in Shanghai, China and studied in Hong Kong before coming to the US. Growing up an only child to Chinese immigrants, Larissa struggled with her identity and initially rejected her heritage.
She explains, "When I was a little girl, my favorite movie was Grease. I wanted to be 'Sandy'. I wanted blond hair and blue eyes but I would look in the mirror and just see plain black hair and dull brown eyes. As an adult now, I'm proud of the way God has uniquely made me."
As a result of her newfound appreciation for her identity, Larissa is very passionate about promoting diversity and faith in media. In May 2014, she was invited to represent artists in a historic White House briefing and summit of Asian American Pacific Islander Christian leaders.  She served for two years on the Asian Pacific Islander American Heritage Month committee for the city of Los Angeles under Mayor Antonio Villaraigosa. She has spoken at numerous universities such as Yale, UCLA, MIT and University of North Carolina, Chapel Hill.
"Your concert provided a wonderful opportunity for us to think deeply about our lives-whether we are setting our hearts in the direction of eternity and embracing the mission that God has for us."   – Pastor Daniel Low, Bread of Life Church
Larissa classically trained in piano and voice before she ventured into Pop, R&B and dance music. She graduated from UCLA with a degree in business economics and has completed the certificate course for Perspectives on the World Christian Movement.  Larissa is a voting member of the National Academy of Recording Arts and Sciences (The Grammys) and SAG-AFTRA. She has been a member of Chinese Baptist Church of Orange County in Anaheim, CA and currently attends Mosaic in Hollywood, CA. She resides in Pasadena, CA with her husband, Baldwin Chiu (aka Only Won) and their preschool-aged daughter.
Larissa's Music Website